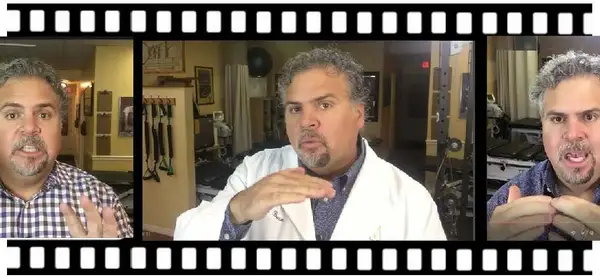 "What Made Me Leave a Stellar Job and Never Look Back. Let Me Tell You My Story..."
My name is C. Dean Brown, DC I am a Chiropractor- speaker - and educator. Back then I was an "on-air DJ" for a large Florida radio station, but I developed horrible neck pain. In my case it came on suddenly and for what seemed like no reason. The pain in my neck was so intense that I got terrible headaches and was even afraid to drive my car because when the pain hit, it would almost blind me. I was afraid that I couldn't continue to work if the disability continued. After considering surgery, I decided against it. But, there's more…
A friend of mine convinced me to give his doctor a try. This new doctor did an exam, took some films, and then 'adjusted' my spine. The adjustment didn't hurt, it actually felt good. I got relief, and I could get back to work again. Oh, did I mention that this doctor is a Chiropractor? It worked so well for me, and I was so impressed with the other 'miracles' [they weren't really "miracles," just amazing results] I saw in his office, that I eventually went to Chiropractic school myself.
It's strange how life is…
because now people come to see ME with their neck pain and headaches. Also, they come to me with their sciatica, back pain, whiplash from car accidents, shoulder/arm pain, herniated discs, numbness or tingling in the limbs, just to name a few. Several times a day patients thank me for helping them with their health problems. (That's why we can't wait to get started every Monday!)
But I can't really take the credit...
I've never cured anyone of anything. What I do is perform a specific spinal adjustment to remove nerve pressure, and the body responds by healing itself. We get tremendous results. It's as simple as that! Being a chiropractor can be tough, because there's a host of so-called experts out there. They tell people a lot of things that are just plain ridiculous about my profession. But the studies speak for themselves, like the Virginia study that showed that over 90% of patients who saw a chiropractor were satisfied with their results. That's just incredible!
But, this may surprise you...
In 2007 Forbes Magazine reported that 60% of all bankruptcies were due to sickness. Then, in 2010, Harvard reported that medical bills cause 75% of bankruptcy! That's crazy! It makes me think of the landmark 2007 study that followed 800 people who went to a Chiropractor when they wanted simple maintenance. They discovered that these folks had 60% less hospital admissions, 62% less surgeries, and spent 85% less on medicine. That sure sounds like a good way to avoid some of those giant medical bills:) This is especially important when you consider that an entire week of care in my office may cost what you could pay for one visit elsewhere.
A Brief List of My Qualifications:
I graduated from Jesuit High School. Then, after completing my undergraduate degree at the University of Florida, I proceeded to Life University in Atlanta,Ga where I graduated Magna Cum Laude as Doctor of Chiropractic. I have practiced in Tampa for 12 years where I have treated over 6,000 people. I have completed post doctoral courses in whiplash and brain traumatology, spine disorders, and spinal rehabilitation. I am a member of the International Chiropractic Association, American Chiropractic Association, Florida Chiropractic Association and Hillsborough County Chiropractic Society.
I keep informed on the latest advances in chiropractic treatment by attending nationwide seminars and meeting with professionals of various specialties and education. This is the kind of professionalism I offer you. If you have hesitated visiting a Chiropractor, perhaps you didn't know that some Chiropractors go to such great lengths to continue their education and provide you with the latest techniques and the most qualified service.
Call me today and let me help you…
Our office is both friendly and warm and we try our best to make you feel at home. We have a wonderful service, at an exceptional fee. Our office is called CHIROPRACTIC CARE CENTRE and it is at 4247 W Kennedy Blvd. (we are one block west of Lois). Our phone number is 813-289-5575. Call Sarah (she takes care of the schedule and greets you with a warm smile when you arrive) today for an appointment. We can help you. Thank you.
Full CV available by clicking here
Education:
Bachelor of Science - University of Florida
Doctor of Chiropractic - Life University
Licensure:
State of Florida - Doctor of Chiropractic
Memberships & Associations:
International Chiropractors Association
American Chiropractic Association
Florida Chiropractic Association
American Academy of Pediatrics
Hillsborough County Chiropractic Society
Distinguished Fellow - Chiropractic Biophysics
Rotary Club of Tampa Bay